1 July 2020 | Vejlefjord, Denmark [Marion Bech Boilesen]  
A three-month break from friends can be difficult – especially for children. This is equally true for church congregations as many have struggled to get the same intimacy and sense of worship from a live stream or video as they get from physically attending a place of worship.
Like everywhere else, Vejlefjord Seventh-day Adventist church members have missed meeting as a congregation. Denmark was one of the earliest European countries to close churches due to the Covid-19 pandemic. However, due to the early closedown, the infection rate has gone down.
Denmark is slowly reopening – including schools and churches. Yet reopening is not that easy! Adults may respect social distancing and other preventative measures. It is not so easy for the children. They do not necessarily understand or adhere to government guidelines for indoor congregations. Vejlefjord children needed a solution.
Saturday, 27 June was their day! A joyous and long-awaited reunion took place as Pastor Lasse Bech welcomed parents and children to an informal Sabbath picnic on the front lawn of the boarding school. (The Adventist church is based on the school campus.)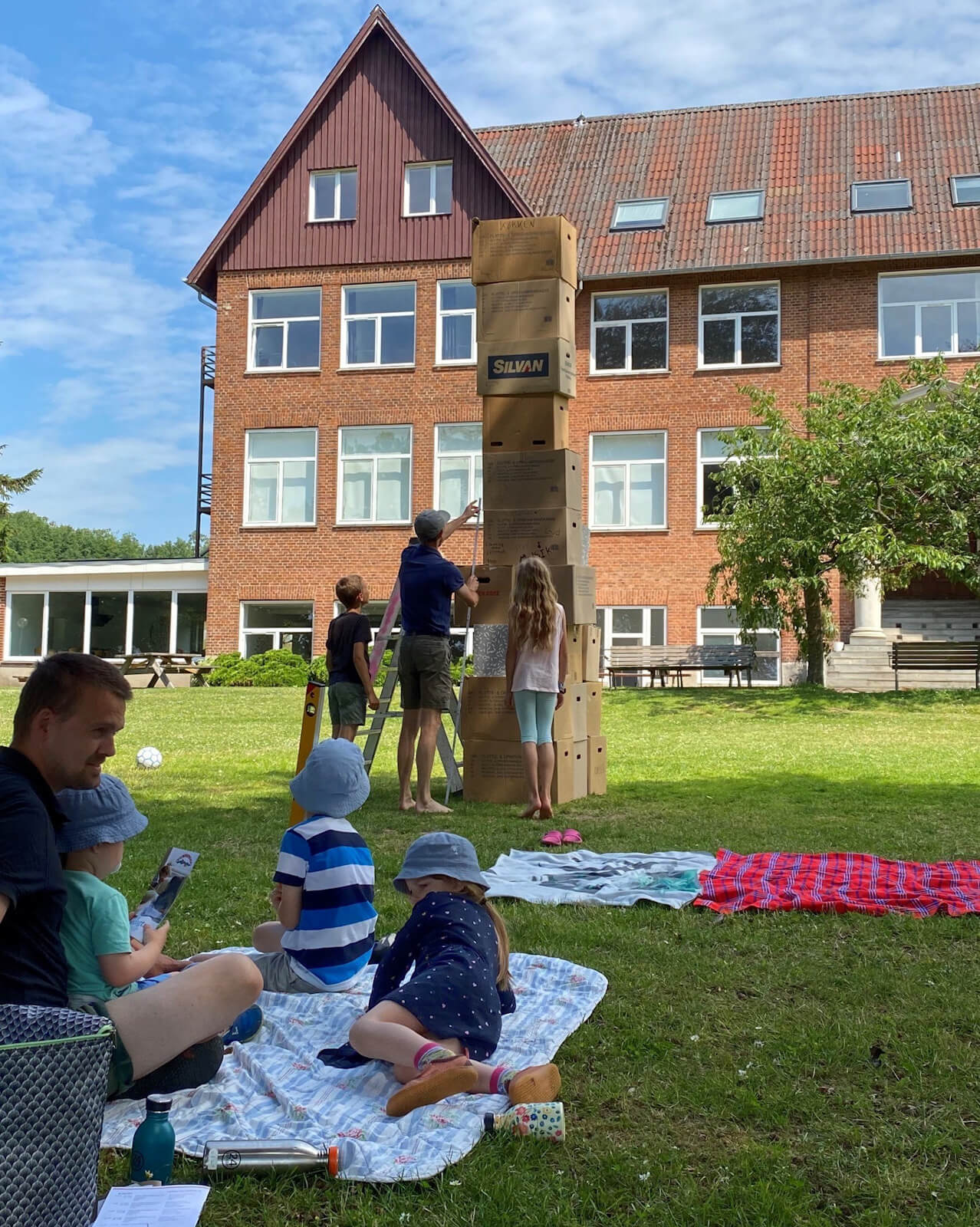 Sitting together as families on rugs, the lawn soon transformed itself into a setting for building the tower of Babel. Designed specifically as a child-friendly programme, both children and parents helped to build a tall tower of moving boxes. In addition to the Bible lessons and music, the morning became a very special time for socialising with missed friends while enjoying packed lunches.
To live carefully within government guidance participants signed up in advance, fitting in with the current directive that no more than fifty people can meet outdoors together. Jesus stated that "where two or three gather together in My name, there am I with them." [Matthew 18:20] At Vejlefjord that was certainly true for the joyful group of families that met together for innovative worship and fellowship.
---
tedNEWS Staff: Victor Hulbert, editor; Deana Stojković, associate editor
119 St Peter's Street, St Albans, Herts, AL1 3EY, England
E-mail: This email address is being protected from spambots. You need JavaScript enabled to view it.
Website: www.ted.adventist.org
tedNEWS is an information bulletin issued by the communication department of the Seventh-day Adventist Church in the Trans-European Division. Readers are free to republish or share this article with appropriate credit including an active hyperlink to the original article.
Fancy singing a hymn?.
Check out
https://sdahymnal.net/