USAID agrees to support ADRA-sponsored initiative on the streets of Belgrade.
10 June 2021 | Brussels, Belgum  [Andreas Mazza, EUDNEWS; ADRA Europe; Adventist Review and tedNEWS]
The United States Agency for International Development (USAID) recently awarded a US$120,000 grant to the Adventist Development and Relief Agency (ADRA) in Slovakia (partnering with ADRA Serbia) for the ongoing implementation of the "DrumoDom" programme for the homeless in Serbia.
USAID director Shanley Pinchotti, US and Slovak Ambassadors in Serbia Anthony F. Godfrey and Fedor Rosocha with ADRA Serbia Director Igor Mitrović [Photos: ADRA Serbia]
On 28 May 2021, representatives of USAID in Serbia and the Embassy of the Slovak Republic signed a memorandum of understanding. The financial award will enable the continuation of the project, specifically created to provide support to homeless people.
Signatories were USAID director Shanley Pinchotti and the Slovak ambassador in Serbia, Fedor Rosocha, with U.S. ambassador to Serbia Anthony F. Godfrey as a witness. The delegation chose an ADRA Community Centre as the site for the signing ceremony.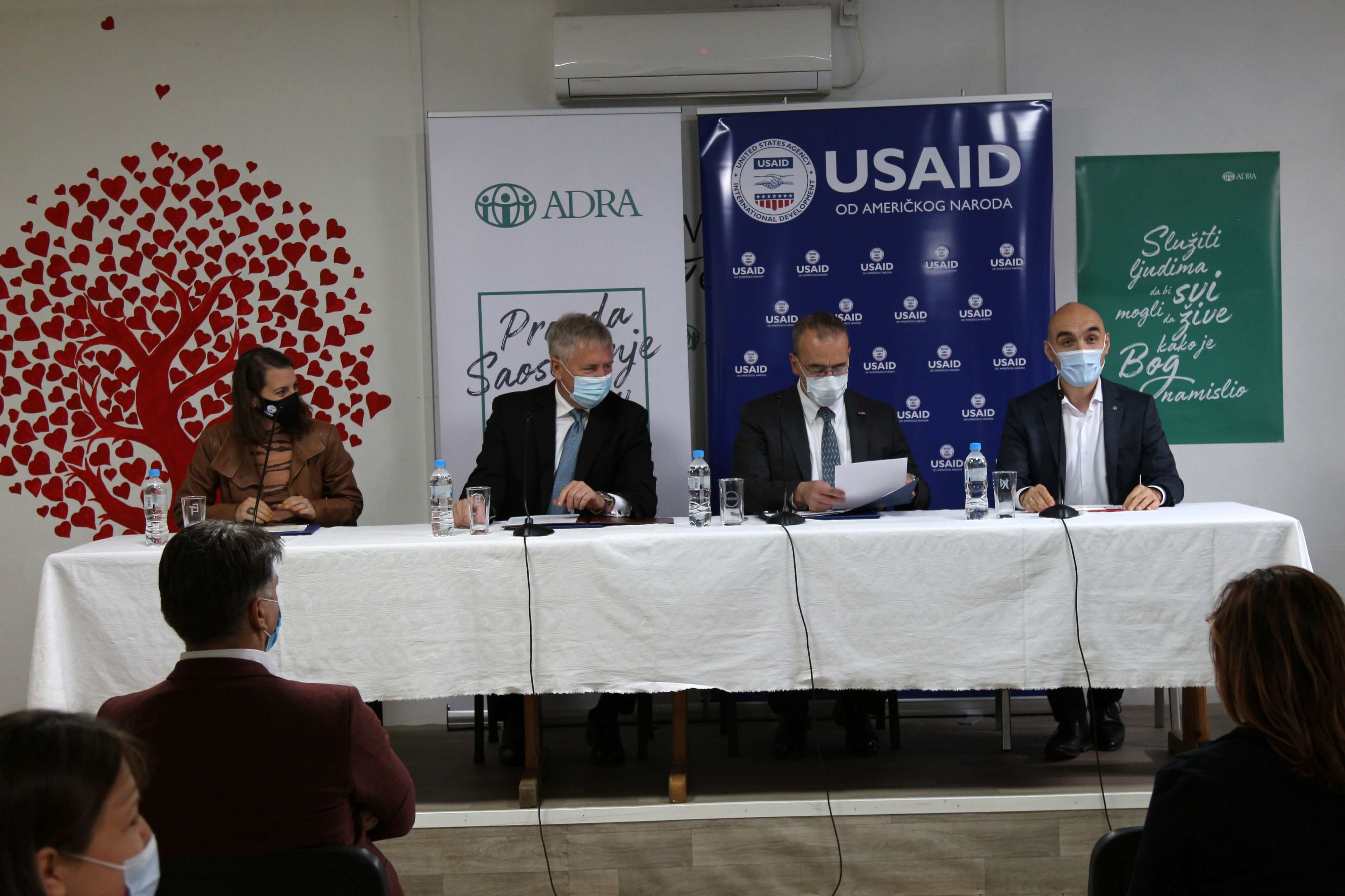 The signing ceremony at ADRA Serbia Community Centre.
"We are impressed by what the Slovak agency, SlovakAid, and the Adventist organisation, ADRA, have done for the homeless," Godfrey said. "Today, we are awarding US$120,000 so that, together with you, we can continue these efforts and support more people," he added. "Partnerships give birth to great things!"
Igor Mitrović, ADRA Serbia office director agrees with Godfrey emphasising that, "The real difference in the community is made through partnerships. This time it is the U.S. government that joins the partnership that ADRA and the Adventist church in Serbia already had with the Slovak government, local businesses, local government and many citizens." He explains, "The Church is here to be the salt to the community. We – although not the largest player in this alliance nor the most powerful – are playing an important role. Just like the role that the salt is playing in making bread by adding the taste to it, I want to believe that, in our case, that saltiness is committment to and the love for this forgotten and growing community of homeless in our country." Mitrović concludes, "We are also learning that it is good to be wise but certainly not afraid of reaching out to others in our community. I believe it is God`s way."