28 June 2019 | St Albans, United Kingdom [Tor Tjeransen, Thomas Müller / tedNEWS]
A group of 18 representatives from the Northern Asia-Pacific Division (NSD), the administrative region which includes China, North Korea, South Korea, Japan, Taiwan and Mongolia, had Norway as the first stop on a ten-day journey through some of the countries of the Trans-European Division from 14–23 June. The purpose of the journey was to learn about the work of the Church in another region.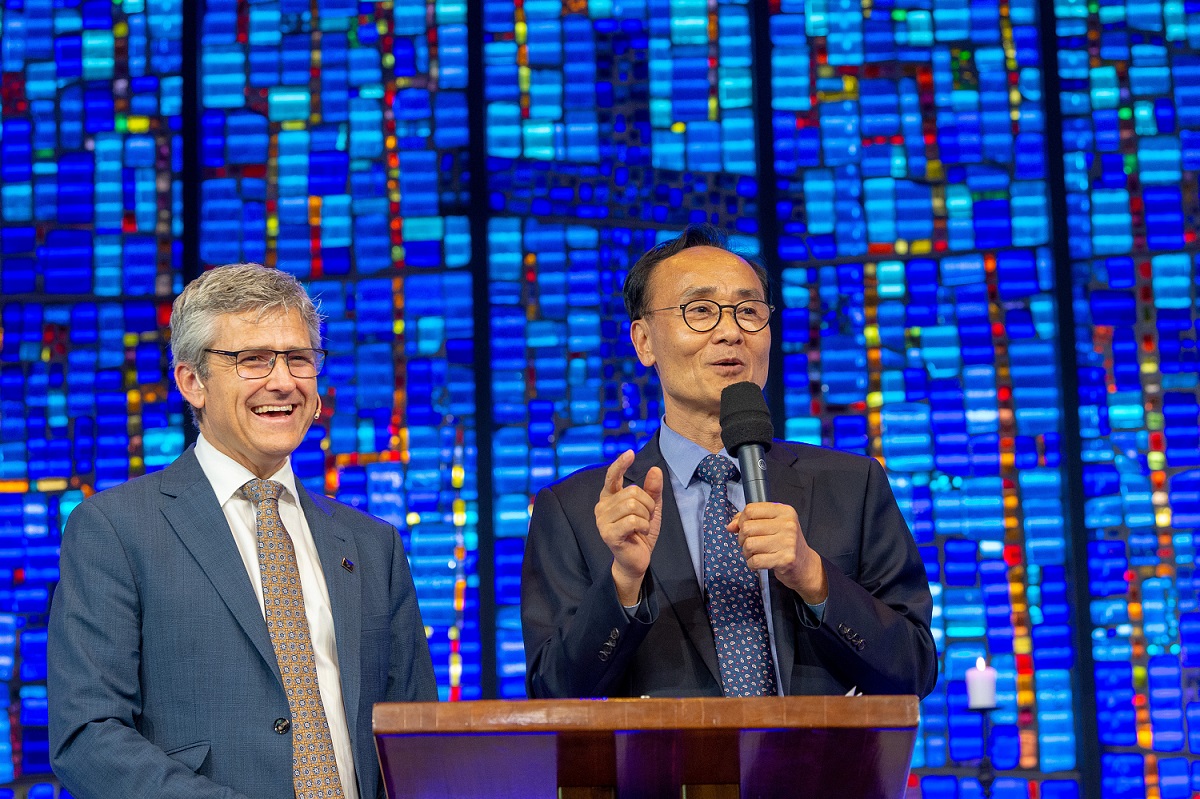 Pastor Victor Marley interviewing the president of the Northern Asia-Pacific Division, Dr Kim, at the Day of Fellowship. [Photo: Tor Tjeransen/ADAMS]Despite all the countries within the division having different languages, according to Dr Si Young Kim, President of the NSD, there are two things that unite these Adventists – everyone is engaged in mission and they use chopsticks. "Therefore, our division is referred to as the 'chopsticks division'," he said when speaking to the congregation attending the East Norway Conference Day of Fellowship at the Norwegian Junior College (Tyrifjord videregående skole).
The area covered by the Northern Asia-Pacific Division is home to a population of 1.6 billion people. That represents 23% of the world's population, of which only 4% are Christians. Christian mission is obviously facing major challenges in such an area. Dr Kim mentioned the traditional religions such as Shintoism and Buddhism as well as secularisation, as the main factors for the low proportion of Christians in these countries.
The Adventist churches in the region are engaged in targeted mission activities to inspire Christian faith. Every year, the churches organise a mission day where everyone is engaged in witnessing on the streets of megacities, towns and villages. These outreach activities always yield results. In 1991, the regional leadership initiated the 'Thousand Missionaries' campaign, which is still in operation. The goal is to equip and send out a thousand missionaries each year. Through this programme, youth are engaged in mission, they help spreading the advent message, and they strengthen local congregations.